Gifts of Life Insurance
A Gift of Buried Treasure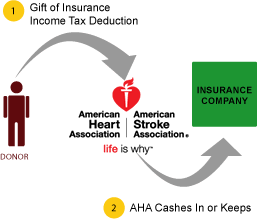 How it works
| | |
| --- | --- |
| | You transfer ownership of a paid-up life insurance policy to the American Heart Association. |
| | elects to cash in the policy now or to keep the policy and receive the death benefit later. |
Benefits
You receive gift credit and an immediate income tax deduction for the cash surrender value of the policy.
In some cases, you can use the cash value in your policy to fund a life-income gift, such as a deferred gift annuity.
You can have the satisfaction of making a significant gift now to without adversely affecting your cash flow.

For more information
Email us, complete the personal illustration form, or contact the charitable estate planning representative in your area so that we can assist you through every step of the process.
Have Questions?
Contact your Charitable Estate Planning Representative to discuss your options.
American Heart Association's
Tax Identification Number
13-5613797

Are We in Your
Estate Plan?
Notify us so we may thank you for your future gift.